| | | |
| --- | --- | --- |
| | | | |
WHEN IS THE BEST TIME TO START ORTHODONTIC TREATMENT?
The best time to start orthodontic treatment depends on individual dental development. Some treatments should beginn already at age 6 (in the case of mandibular prognathism, where the lower jaw is protruding abnormally, or extremely open bites and the so-called cross-bite). As a rule, orthodontic treatment starts between age 9 and 10, when the lower baby canines are replaced by permanent teeth.

During the first consultation we will assess the overall situation of tooth malalignment and jaw malposition. We will evaluate the position of the jaws to each other, and check the chewing and facial muscles as well as the function of the tongue. It is important to also take a look at the swallowing and breathing process.

Should orthodontic treatment be required, the first step is to prepare diagnostic data like x-ray images (panoramic and lateral cephalometric X-ray), dental impressions for diagnostic models and profile photos.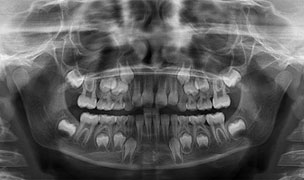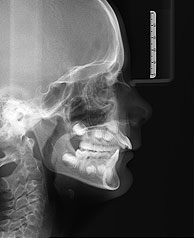 The panoramic x-ray (OPG)
is necessary to diagnose possible tooth anomalies, e.g. to see if the roots are regular, whether permanent teeth are missing under the baby teeth (hypodontia) or too many teeth (hyperdontia) are waiting to erupt, to check for tooth decay and see if the wisdom teeth are present. The panoramic radiograph also shows disturbed eruptions, displaced, impacted and embedded teeth as well as dental misalignment.
The lateral cephalometric X-ray
is needed to determine the type of growth, to assess tooth axis position (or angle) of the incisors in relation to the upper or lower jaw and to check the jaw positions (relationship of upper to lower jaw).
The diagnostic model
will be measured by means of model analysis and together with the X-ray images a treatment plan will be established.