| | | |
| --- | --- | --- |
| | | | |
FIXED BRACES
Tooth extractions can be avoided!


In the case of fixed braces, the teeth are guided by wires – so-called archwires. For this purpose, individual brackets are bonded to the teeth, and the wire with an idealised arch form is inserted into the slots in each bracket.
When orthodontic treatment with fixed braces is necessary, our practice exclusively uses a passive self-ligating bracket system by a world-renowned dental company. This is based on so-called self-closing "straight wire" brackets which are closed by a metallic clip. Here the friction is reduced, i.e. the wire slides with minimal friction ("low friction") through the bracket slot. As opposed to conventional "standard edgewise" brackets the bracket slot in high-quality self-ligating "straight wire" brackets is three dimensionally angled (programmed), so that the wire running through the bracket slot can move the teeth into an optimal individual position.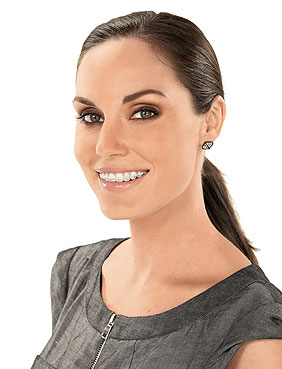 The self-ligating bracket system used in our practice is aesthetic, highly accurate, very comfortable and generally gentle on all tissues involved, applying mild physiological forces on all teeth in most cases. Dental hygiene is easier with self-ligating brackets, since the elastic O-rings (rubber rings around the brackets), which tend to accumulate bacteria (plaque) on the teeth, are not needed. Often treatment time is considerably shorter, which means fewer check-up appointments are necessary and braces can be removed after a shorter period of time. In general, the maximum treatment time with self-litigating brackets is 18 months, and often less.
One of the top priorities in our orthodontic practice is to avoid tooth extractions.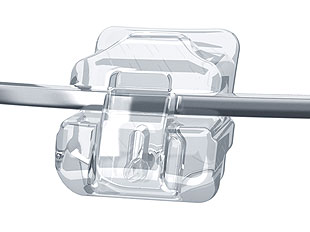 Especially at the start of the treatment, it is important to use soft and flexible wires, qualities that characterize hightech nickel-titanium archwires (materials which are also used in space). These highly flexible wires are used in our practice, since their well-defined force transmission as a rule makes treatments faster, more gentle, more individual and virtually painless. Moreover, the risk of root damage when using conventional steel wires at the start of the treatment is significantly higher, since steel wires are stiffer and more rigid.
In our practice, exterior arches ("headgear") are used only very rarely.
A nearly invisible variant of the fixed metal braces are » ceramic brackets. Photos: Damon Q Bracket-System